Emmy
Emmy likes her "omafiets". It's by Gazelle, a large Dutch bike manufacturer. It's called "Ambiance" and has 7 gears, so it is much more advanced than a classic omafiets, which is a black single speed coaster-brake bike. By the way, "omafiets" means grandma's bike, which is not applicable to Emmy, as yet.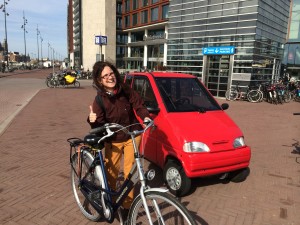 Lewis
Lewis brought his gear-head folding bike from Seattle. It's a Bike Friday Tikit, the like of which has not been seen in Amsterdam. They have Bromptons, but no Bike Fridays. No one knows how cool he is… (maybe that's because–you know). To look a little more Dutch, he added a milk crate to the back.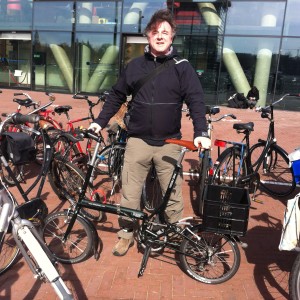 Rental bike shops are all over Amsterdam. Instead of renting a bike for the two months we are here, Emmy decided to buy a used bike at a bike shop just one street over from Vondelpark. We resold the very same bike to the very same shop, a fair price at both ends. This was a much more frugal way to have a bike than daily rentals for 2 months. Frugality is important in the Netherlands.