Today, Emmy and I took our daughters Susie and Ellie to the Van Gogh Museum and the Rijksmuseum (our son Jay is slaving away at school). It was a beautiful day in the high teens and the world was enjoying museums and cafes.
Here are Susie, Ellie, and Vincent (and Vincent):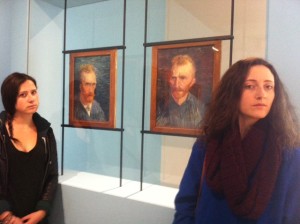 On the way across the field, it was necessary to pose on the "I Amsterdam" letters (see above..,)

After an exhausting day of museum hopping, we had to join the hordes basking in the sunshine of the Leidseplein for lunch. Here, Ellie samples her first beer (ever, honest) with appropriate adult supervision.